A week in Italy with Rome, Florence, Siena, and 5 days of hiking gorgeous Tuscany along the Via Francigena pilgrim trail
This post is an adjunct to the Hiking the Via Francigena post with details about hiking the best section of the pilgrim trail in Tuscany. Living in central Europe made it easy for us to plan a short trip to Tuscany, but even if you're coming from North America, you could easily cover all or part of the recommended hike plus see a little of Rome, Florence, and Siena in a total trip of 8-12 days. That won't allow lots of time for each of those cities, but you'll get a taste of each or a chance to revisit what you loved most in a previous visit.


For example:
THURSDAY
Evening departure, flight East Coast to Rome
FRIDAY
Morning arrival in Rome, taxi to hotel, explore
SATURDAY
morning train to Florence (90 minutes, hourly departures, approx €50 one way), explore.
Afternoon train to San Gimignano (2 hour bus via Poggibonsi, €10), explore.
(Tickets can be bought same day at the train station)
SUNDAY
Hike day 1: SAN GIMIGNANO to MONTERIGGIONI - 28km (17mi)
MONDAY
Hike day 2: MONTERIGGIONI to SIENA - 22km (14mi)
TUESDAY
Hike day 3: SIENA to BUONCONVENTO - 30km (19mi)
WEDNESDAY
Hike day 4: BUONCONVENTO to SAN QUIRICO - 22km (14mi)
THURSDAY
Hike day 5: SAN QUIRICO to RADICOFANI - 33km (20mi)
FRIDAY
morning bus/train connection to Rome, explore
SATURDAY
Full day in Rome
SUNDAY
Morning return flight from Rome
For an overnight stay in Florence, we can highly recommend the amazing Tournabuoni guesthouse (view pictured below).
The Lonely Planet pocket guides to Rome and Florence & Tuscany are both good guides, as are the full-sized Rome and Florence & Tuscany travel guides. However, the latter are too big to carry while hiking, so they're only practical if you plan to store some items while hiking. We found Sandy Brown's compact Walking the Via Francigena Pilgrim Route - Part 3 had all the necessary information for the towns along the trail (only one of which appears in the big Florence & Tuscany guide).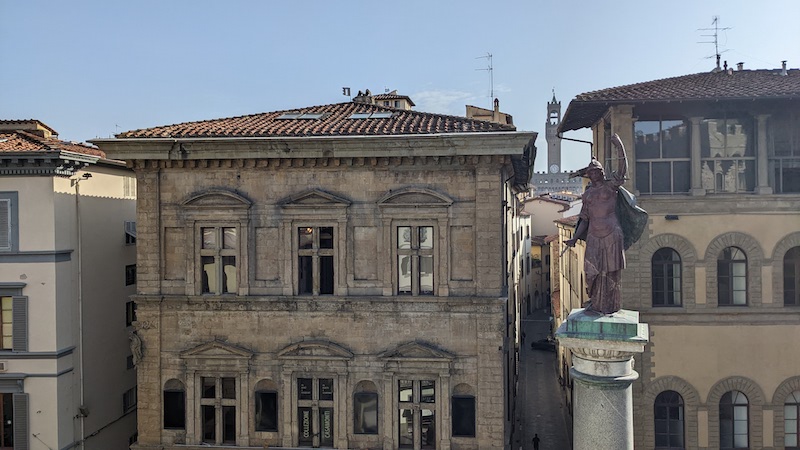 As mentioned, all the details of the hike are in this post.
I hope this has been helpful and interesting, either as a planning tool or armchair adventure. For other exciting trips and ideas, click on "HOME" at the top of the page. Thank you for visiting TheTravelBug.blog and happy travels!